LIGHTS FC TO WEAR COMMEMORATIVE "DONATE LIFE" JERSEYS THROUGHOUT AUGUST TO RAISE AWARENESS FOR NATIONAL MULTICULTURAL DONOR AWARENESS MONTH
Nevada Donor Network & Lights FC Team Up to Raise Awareness of 640 Nevadans Currently Waiting for Second Chance Through Organ Donation — And Need for Increased Organ Donors, Especially Within Local Hispanic Population;
Commemorative Jerseys Featuring "Human Organs Design" to Be Worn By Players During the Month of August.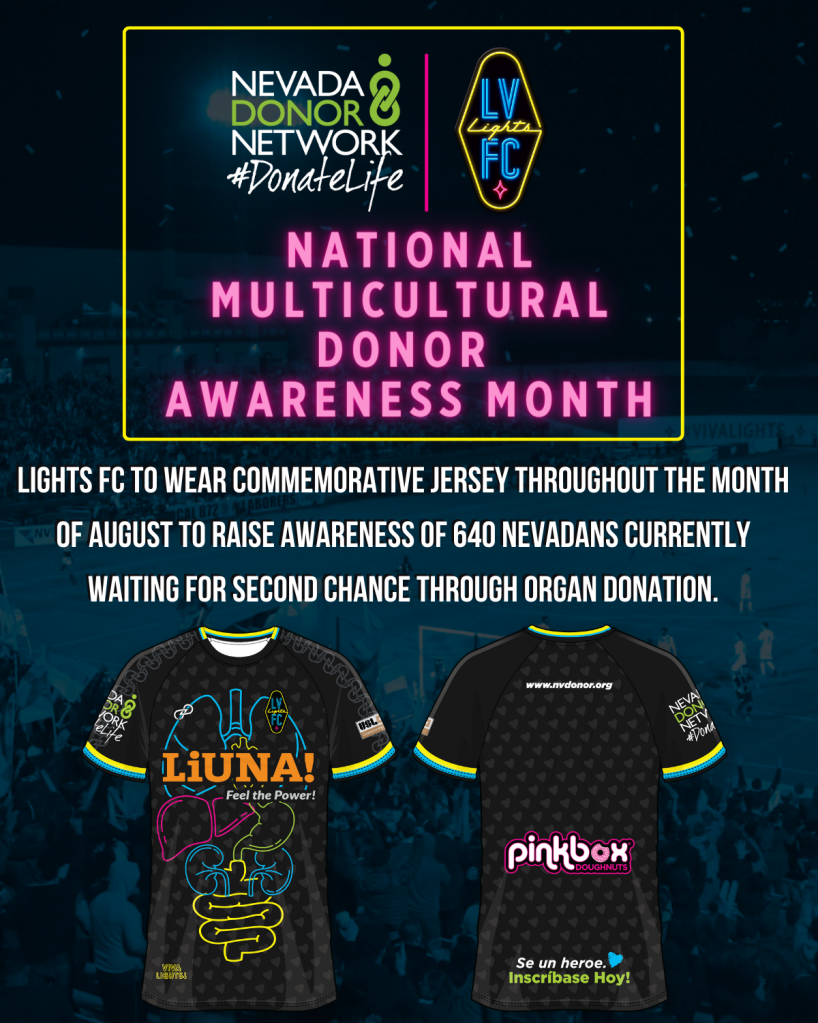 August 1, 2023 (Las Vegas, NV) — Using its platform as a professional sports team locally to help raise awareness for important causes around the valley, Lights FC & Nevada Donor Network are teaming up this week to raise awareness for the 640 Nevadans currently waiting for a second chance through organ donation.
For the entire month of August, Lights FC players will wear specially designed commemorative jerseys featuring various human organs that may be donated upon a person's death to provide life to others in need.
The need for local residents to register as organ donors is at critical levels, especially within the local Hispanic community where organ donors often require additional demographic matches to ensure the success of the transplant.
All fans are encouraged to go to NVDonor.org/Lights to register today to become a hero!
Lights FC home matches this month are as follows…:
Saturday, August 5th vs. Rio Grande Valley FC
Saturday, August 12th vs. Loudoun United FC
Saturday, August 26th vs. Phoenix Rising FC
In addition, Lights FC's home match on Saturday, August 26th will be #DonateLife Night featuring an evening full of activities aimed at raising awareness, including Lights FC hosting the annual "Guns n' Hoses" soccer match between local Fire & Police employees.
"This is an important cause — and one that we are proud to help raise local awareness," said Lights FC Owner & C.E.O. Brett Lashbrook. "We sincerely hope that this initiative starts important conversations within families and causes fans to learn more about the 640 fellow Nevadans that are currently waiting for a second chance through organ donation."
Individual tickets can be purchased here: LightsFC.com/Tickets
About Las Vegas Lights FC:
Established in 2017, Lights FC brought professional soccer to the Entertainment Capital of the World. A member of the United Soccer League Championship, the second division professional league in the United States, Lights FC averages close to 8,000 fans per match playing in downtown Las Vegas at historic Cashman Field. Named by Sports Illustrated as the "Most Interesting Team in the World," the Club is known for its unique match day experience and was recently voted "Best Sports Value" in Las Vegas. Additional information can be found at LightsFC.com.
CONTACT:All Media Inquiries should be direct to: Communications@LasVegasLightsFC.com