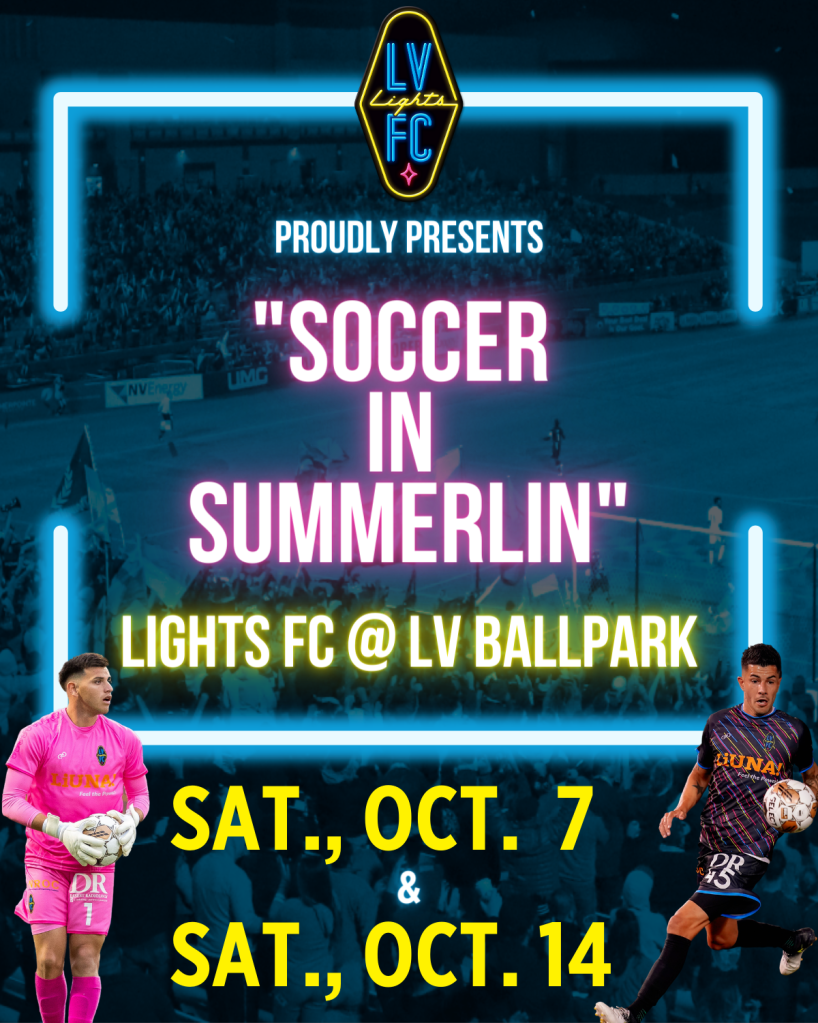 Las Vegas Lights FC's October 7th & 14th USL Championship League Match at Las Vegas Ballpark®
Las Vegas, NV (July 27, 2023) — Las Vegas Lights FC professional soccer club and the Las Vegas Ballpark® home of the Las Vegas Aviators® Triple-A professional baseball team of the Pacific Coast League, jointly announced today "Soccer in Summerlin®", which will feature two professional soccer matches to be played at Las Vegas Ballpark® in Downtown Summerlin® this October.
Match #1:

  Saturday, October 7th – Lights FC vs. Colorado Springs (7:30 p.m.)

Match #2:

  Saturday, October 14th – Lights FC vs. San Diego (7:30 p.m.)
Special pre-sale opportunities will commence this week (July 27 – 31) for Las Vegas Aviators season ticket members, Las Vegas Lights FC season ticket members and all registered users of the Summerlin App.  Tickets for the public will go on sale next week.
"We are excited to partner with the Las Vegas Aviators and Las Vegas Ballpark® to bring professional soccer to Summerlin," said Brett Lashbrook, Las Vegas Lights FC Owner & C.E.O.  "This will be a great opportunity to continue to spread the word and invite the community to come out and support professional soccer."
To learn more and purchase tickets, visit the following links.
About Las Vegas Lights FC:
Established in 2017, Lights FC brought professional soccer to the Entertainment Capital of the World.  A member of the United Soccer League Championship, the second division professional league in the United States, Lights FC averages close to 8,000 fans per match playing in downtown Las Vegas at historic Cashman Field.  Named by Sports Illustrated as the "Most Interesting Team in the World," the Club is known for its unique match day experience and was recently voted "Best Sports Value" in Las Vegas.  Additional information can be found at LightsFC.com.
About Las Vegas Ballpark®
Las Vegas Ballpark®, located on eight acres in Downtown Summerlin® just south of City National Arena – practice facility for the Vegas Golden Knights, is the home of the Las Vegas Aviators®, the city's professional Triple-A baseball team of the Pacific Coast League and affiliate of the Oakland Athletics. The team is wholly owned by The Howard Hughes Corporation®, developer of the award-winning master-planned community of Summerlin® and developer of Las Vegas Ballpark. With a wide range of seating options including 22 suites, club seats, berm seating, party zones and decks, picnic tables, kids' zone, bars and a pool beyond the outfield wall, Las Vegas Ballpark boasts a capacity of 8,196. Designed to host a variety of events in addition to baseball, the site is landscaped to complement the surrounding master-planned community. The site is easily accessed from all regions of the valley via the 215 Beltway. For more on Las Vegas Ballpark, visit https://www.thelvballpark.com/.
PRESS CONTACT:
Las Vegas Lights
Communications@LasVegasLightsFC.com
The Warren Group Public Relations, Las Vegas Ballpark
Melissa Warren: 702-528-6016; Melissa@twgpr.com
McKinzie Cogswell: 702-234-5307; McKinzie@twgpr.com