Roster Reflects Combination of League Veterans, Former Youth National Team Players & a Las Vegas Native Returning Home;
Pre-Season Training Camp to Open February 1st.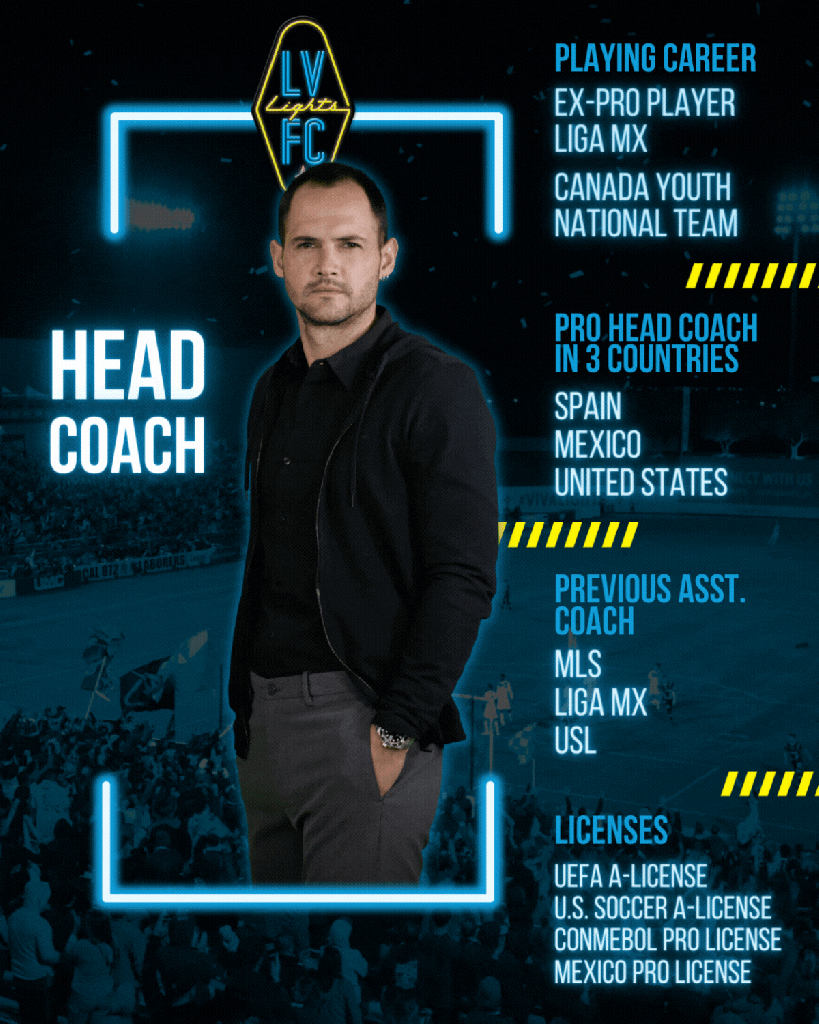 January 25, 2023 (Las Vegas, NV) — Las Vegas Lights FC announced today its new coaching staff along with its initial new player signings.
Coaching Staff:
Isidro Sanchez returns to Lights FC as Head Coach after previously serving as Assistant Coach & interim Head Coach. He becomes the first individual in history to be a Head Coach for second division clubs in both Mexico & the United States. Further, in addition to having served as an Assistant Coach in the United States (Major League Soccer & United Soccer League Championship), Mexico (Liga MX) and in Spain, he also currently holds "A"-Licenses from the U.S. Soccer Federation, UEFA (European Governing Body), CONMEBOL (South American Governing Body) and the Mexican Futbol Federation. Coach Isidro will be joined on-staff by former Lights FC player Juan Carlos Garcia as assistant coach. In addition, former UNLV & Lights FC player Julian Portugal will serve as the club's Performance Coach and Romilio "Romi" Gomez will serve as Goalkeeper Coach.

Initial Player Signings (presented in alphabetical order):
Patricio "Pato" Botello Faz: Born in Mexico and raised in Texas, he was the second leading goal scorer for Detroit City FC last season in the USL Championship after spending the previous two seasons in USL League One.
Andrew Carleton: Originally from Georgia, he previously played for every level of the U.S. Youth National Team (U-15, U-17, U-18 & U-20), Major League Soccer's Atlanta United and USL's San Diego Loyal.
Zach Carroll: A veteran of USL, he's played seven seasons in USL Championship including for New York, Orlando and most recently Memphis 901 FC. Played collegiately at University of Virginia and Michigan State University.
Azriel Gonzalez: Born & raised in Southern Nevada, he will become the 10th player in Lights FC history to have been born in, raised in and/or attended school in the Las Vegas area. Previously trained in Major League Soccer's Seattle Sounders FC Youth Academy, he has played professionally in both the USL Championship (Tacoma Defiance) and the Canadian Premier League (FC Edmonton & York United). Has also previously played for the U.S. Under-16 Youth National Team.
Justin Ingram: A second-year pro, he appeared in 30 matches during his rookie season last year for USL Championship's Indy XI. As a youth, he also attended training camps for both the Under-15 & Under-19 U.S. Youth National Teams.
Andres Jimenez Aranzazu: Born in Miami but spent a considerable amount of time in Colombia where he most recently played professionally in the first division. He has appeared previously for the U.S. Under-20 Youth National Team.
Eric Oteng: Born in Ghana, he most recently played in the premier division of Finnish soccer. He started his career as part of the acclaimed Right to Dream Academy.
Alejandro Mitrano: Trained as a youth in the prestigious New York Cosmos youth academy before starting his professional career in the Czech Republic & Slovakia, before moving to his native Venezuela where he has been playing first-division soccer.

Issa Rayyan: A graduate of Duke University, he enters his seventh year of professional soccer all with USL Championship with previous stints playing in Philadelphia, Tacoma and most recently Colorado Springs. He also previously attended a U.S. Youth National Team Camp, but retains his eligibility to potentially one day represent the Jordan National Team where both of his parents were born.
Each of the above player transactions are pending league and federation approval. Additional players on the roster to be announced in the coming weeks.
Further, Lights FC have engaged Itamar Keinan, the former General Manager at USL Championship's New Mexico United, to assist the club in roster build-out, player identification and contract negotiations.
Open Tryout:
Lights FC will also be holding an Open Tryout for aspiring professional players this weekend on January 28-29 continuing its role as the only professional sports team to guarantee a roster spot each season to a player that was born in, raised in or attended school in Las Vegas. Interested players are encouraged to visit LightsFC.com/Tryout to learn more.
Pre-Season Training Camp:
Lights FC's pre-season training camp officially starts on February 1st in preparation for its season opener on March 12th at Rio Grande Valley FC. Lights FC home opener will take place on May 5th — on Cinco de Mayo.
2023 "FLEX" Season Tickets — Start at Only $200+:
Recently voted the Best Value in Vegas Sports, season tickets start at only $200 and are uniquely structured as "FLEX" tickets. This means you can attend every match in your season-long assigned seat (like a traditional season ticket) or you can "FLEX" it so you can mix-and-match tickets to bring friends & family to specific games (e.g., 1 ticket for 20 games, 2 tickets for 10 games, 2 games with 5 tickets plus 5 games with 2 tickets, etc., etc.). Learn more at LightsFC.com/Tickets.
About Las Vegas Lights FC:
Established in 2017, Lights FC brought professional soccer to the Entertainment Capital of the World. A member of the United Soccer League Championship, the second division professional league in the United States, Lights FC averages close to 7,000 fans per match playing in downtown Las Vegas at historic Cashman Field. Named by Sports Illustrated as the "Most Interesting Team in the World," the Club is known for its unique match day experience and was recently voted "Best Sports Value" in Las Vegas. Additional information can be found at LightsFC.com.
CONTACT:
All Media Inquiries should be direct to: Communications@LasVegasLightsFC.com