"SUMMER OF SOCCER PRESENTED BY TERRIBLE'S"
FEATURES LOWEST LIGHTS FC'S TICKET PRICES EVER!
$10 Terrible's Tickets Available All Summer Long.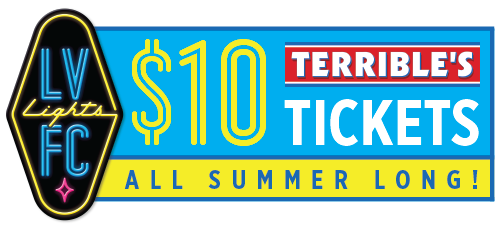 June 2, 2022 (Las Vegas, NV) — The best value in Vegas sports just got better! Lights FC announced a comprehensive partnership today with Terrible's gas stations that will feature "$10 Terrible's Tickets" (general admission) for its "Summer of Soccer" featuring "Terrible's Ten Dollar Tickets."
"A big thanks to Terrible's for supporting us and ensuring that all fans can afford tickets to professional sports in our community," said Lights FC Owner & C.E.O. Brett Lashbrook. "We know it remains difficult financially for so many local families to attend sporting events and we want to be part of the solution. I am incredibly proud of Lights FC taking this step to make pro sports affordable to all."
The 'Summer of Soccer' kicks off at Cashman Field next week on Saturday, June 11th (7:30pm kick-off vs. Orange County SC) culminating with an on-field fireworks demonstration at halftime & a post-game show by Red Apple Fireworks. In total, there are two home matches each month in June, July & August as part of the "Summer of Soccer" promotion for a total of six summer matches.
Individual tickets for all home matches are available for purchase at LightsFC.com/tickets.
About Las Vegas Lights FC:
Established in 2017, Lights FC brought professional soccer to the Entertainment Capital of the World. A member of the United Soccer League Championship, the second division professional league in the United States, Lights FC averages close to 8,000 fans per match playing in downtown Las Vegas at historic Cashman Field. Named by Sports Illustrated as the "Most Interesting Team in the World," the Club is known for its unique match day experience and was recently voted "Best Sports Value" in Las Vegas. Additional information can be found at LightsFC.com.
CONTACT:
All Media Inquiries should be direct to: Communications@LasVegasLightsFC.com