UNLV FOOTBALL'S FAMED "SIDELINE SLOT MACHINE" TO APPEAR AT CASHMAN FIELD THIS SATURDAY FOR LIGHTS FC / UNLV WOMEN'S SOCCER DOUBLEHEADER!

The First of its Kind Slot Machine On Loan From UNLV Football For Saturday's Unique Doubleheader Aimed at Breaking the State's All-Time Women's Soccer Attendance Record;

Lights FC vs. Colorado Springs at 2pm & UNLV Women's Soccer vs. University of Arizona at 4:30pm.  Two Matches for the Price of One!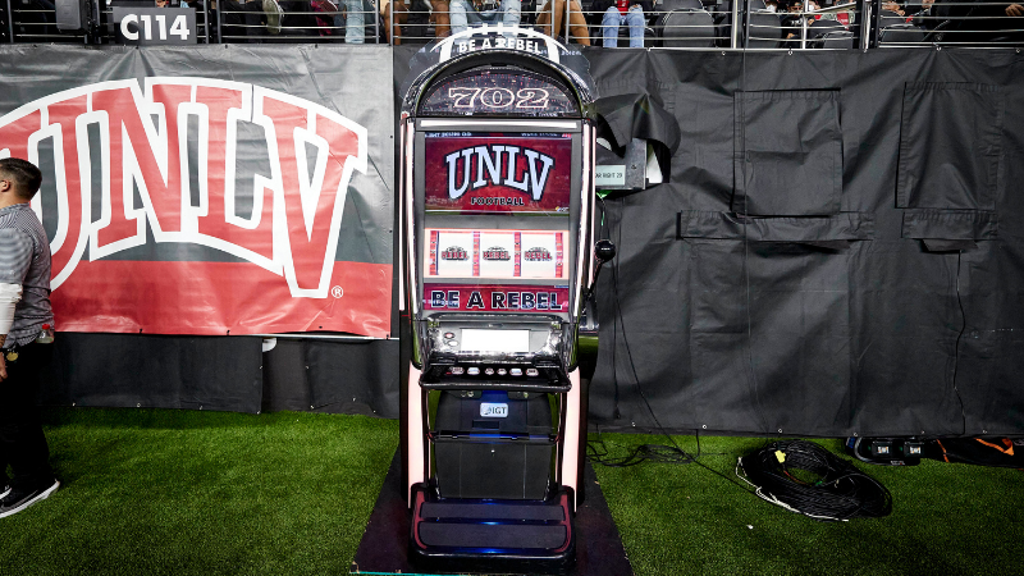 Las Vegas, NV (April 6, 2022) — "Light It Up!" will take on a new meaning this Saturday on the Cashman Field sidelines when Lights FC and UNLV women's soccer players score a goal!
On loan this weekend from the UNLV Football team is it's unique, one-of-a-kind "Sideline Slot Machine." Debuted during the 2021 Rebel football season, this oversized "guaranteed to win" slot machine was designed & manufactured by IGT (based here in Las Vegas).
Used by Rebels' football players to signify success on key momentum plays (such as touchdowns, fourth down stops, game winning plays, etc.), it is intended this weekend to be used by the UNLV Women's Soccer Team to help celebrate goals throughout its doubleheader match against the University of Arizona.
Saturday's doubleheader at Cashman Field kicks-off at 2p with Las Vegas Lights FC vs. Colorado Springs immediately followed by UNLV Women's Soccer vs. University of Arizona. Lights FC & UNLV Women's Soccer has partnered on the match in an attempt to break the State of Nevada's all-time attendance record for women's soccer.
To learn more and purchase individual tickets, visit LightsFC.com/Tickets.
About Las Vegas Lights FC:
Established in 2017, Lights FC brought professional soccer to the Entertainment Capital of the World. A member of the United Soccer League Championship, the second division professional league in the United States, Lights FC averages close to 8,000 fans per match playing in downtown Las Vegas at historic Cashman Field. Named by Sports Illustrated as the "Most Interesting Team in the World," the Club is known for its unique match day experience and was recently voted "Best Sports Value" in Las Vegas. Additional information can be found at LightsFC.com.
CONTACT:
All Media Inquiries should be direct to: Communications@LasVegasLightsFC.com