RIDE THE BUS TO THE GAME, SAVE 50% ON TICKETS!
Lights FC & RTC Announce "Ride RTC to the Match, Get In Half-Price!" Promotion for 2022 Season
Lights FC's Home Opener Set for Saturday, March 19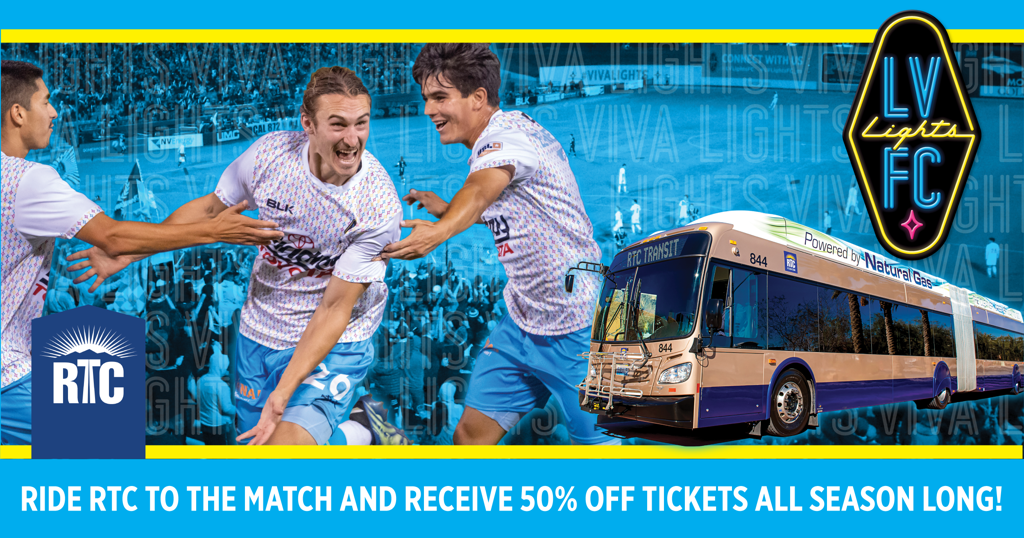 March 9, 2021 (Las Vegas, NV) — Today, Las Vegas Lights FC professional soccer and the Regional Transportation Commission (RTC) of Southern Nevada announce a unique promotion to encourage transit ridership to the games. All residents electing to ride public transportation to Cashman Field for Lights FC matches will receive a half-price match ticket.
Riders simply have to show their bus pass from that day (or their digital pass that would live on any of the following apps: rideRTC, Transit, Uber & Lyft) at the Cashman Field Box Office to receive the ticket discount. Exact rules can be found at LightsFC.com/RTC.
"Cashman Field is located on one of RTC's busiest routes on Las Vegas Boulevard which makes this partnership even stronger," says Lights FC Owner & C.E.O. Brett Lashbrook. "We're excited to continue working with community partners to make Las Vegas a better place to live, work and play."
The promotion runs throughout the 2022 Lights FC season (March through October). Lights FC's home opener is Saturday, March 19 (kick-off 7:00pm).
Individual tickets can be purchased at LightsFC.com/Tickets.
About Las Vegas Lights FC:
Established in 2017, Lights FC brought professional soccer to the Entertainment Capital of the World. A member of the United Soccer League Championship, the second division professional league in the United States, Lights FC averages close to 8,000 fans per match playing in downtown Las Vegas at historic Cashman Field. Named by Sports Illustrated as the "Most Interesting Team in the World," the Club is known for its unique match day experience and was recently voted "Best Sports Value" in Las Vegas. Additional information can be found at LightsFC.com.
About the RTC:
The RTC is the transit authority, transportation planning organization, regional traffic management agency and administrator of Southern Nevada Strong, the regional planning effort for the Las Vegas valley. The RTC's vision is to provide a safe, convenient and effective regional transportation system that enhances mobility and air quality for citizens and visitors. The RTC encourages residents and visitors to use a variety of transportation choices to help reduce traffic congestion, clean the air and improve the quality of life in Southern Nevada. For more information about the RTC and its major initiatives or to download its transit app rideRTC, visit rtcsnv.com and stay informed by subscribing to our blog.