Top Amateur Teenagers Identified During Lights FC's Open Tryouts Selected for 2023 United Soccer League Academy Player Contracts Allowing Them To Train & Play with Professionals While Maintaining Their Future College Eligibility;
Lights FC Home Opener Doubleheader Weekend — Cinco de Mayo (Fri., May 5th) & Family Day (Sun., May 7th).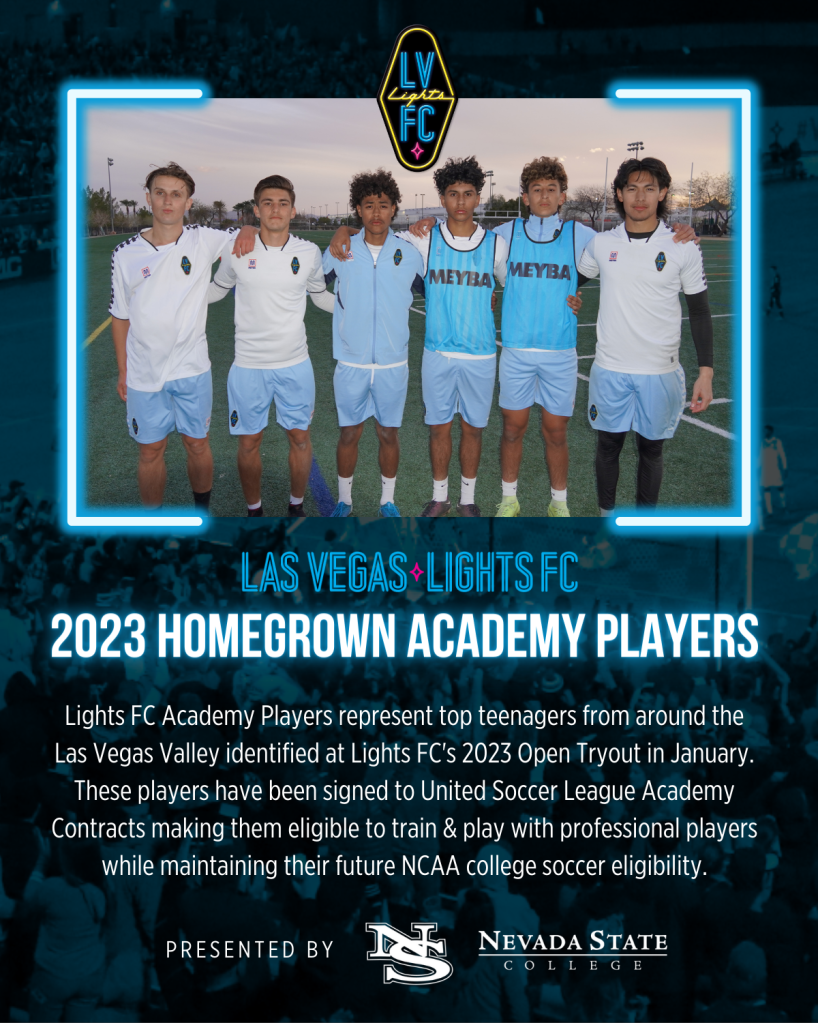 March 21, 2023 (Las Vegas, NV) — Las Vegas Lights FC announced today its inaugural class of Homegrown Academy Players presented by Nevada State College featuring six teenage players identified at the 2023 Open Player Tryout.
This initiative is made possible due to a recent change in both United Soccer League and NCAA rules which now allow local amateur players under the age of 21 that have not previously played professionally or collegiately to sign "Academy Player" contracts with professional clubs that permit them to train & play in professional matches while maintaining their full future NCAA college soccer eligibility should they choose to pursue such a route in the future.
Representing communities across the Valley (including Henderson, Las Vegas and North Las Vegas), Lights FC announced the following players have signed 2023 United Soccer League Championship Academy Contracts: Mauricio Camarena, Aldo Carmona, Anwar Ben Rhouma-Torres, Leo Rodriguez, Alexander Romero & Marco Zuniga.
Lights FC prides itself on its long-standing "Home Grown Players Presented by Nevada State College" initiative which makes it the only professional team in U.S. sports that guarantees a roster spot at all times to at least one player born in, raised in and/or went to school in its local community. Since 2018, Lights FC has had eleven (11) different players appear in regular season matches that had direct ties to our local community before they turned professional, including Henderson native Azriel Gonzalez who is currently signed to a professional contract with Lights FC.
Learn more about "Lights FC Home Grown Players Presented by Nevada State College" by visiting https://www.lasvegaslightsfc.com/about-lv/homegrown/.
Home Opener — Cinco de Mayo:
Lights FC will start the season with an extended road trip to accommodate the XFL at Cashman Field in March/April. The 2023 Home Opener will take place on Friday, May 5th as part of a "Cinco de Mayo" celebration.
2023 "FLEX" Season Tickets — Start at Only $200+:
Recently voted the Best Value in Vegas Sports, season tickets start at only $200 and are uniquely structured as "FLEX" tickets.  This means you can attend every match in your season-long assigned seat (like a traditional season ticket) or you can "FLEX" it so you can mix-and-match tickets to bring friends & family to specific games (e.g., 1 ticket for 20 games, 2 tickets for 10 games, 2 games with 5 tickets plus 5 games with 2 tickets, etc., etc.).  Learn more at LightsFC.com/Tickets.
About Las Vegas Lights FC:
Established in 2017, Lights FC brought professional soccer to the Entertainment Capital of the World. A member of the United Soccer League Championship, the second division professional league in the United States, Lights FC averages close to 7,000 fans per match playing in downtown Las Vegas at historic Cashman Field. Named by Sports Illustrated as the "Most Interesting Team in the World," the Club is known for its unique match day experience and was recently voted "Best Sports Value" in Las Vegas. Additional information can be found at LightsFC.com.
CONTACT:All Media Inquiries should be direct to: Communications@LasVegasLightsFC.com