All Fans Wearing a Raiders or A's Jersey Receive Half-Price Match Ticket;
Las Vegas' Warm Welcome to All Oakland Sports Teams Continues!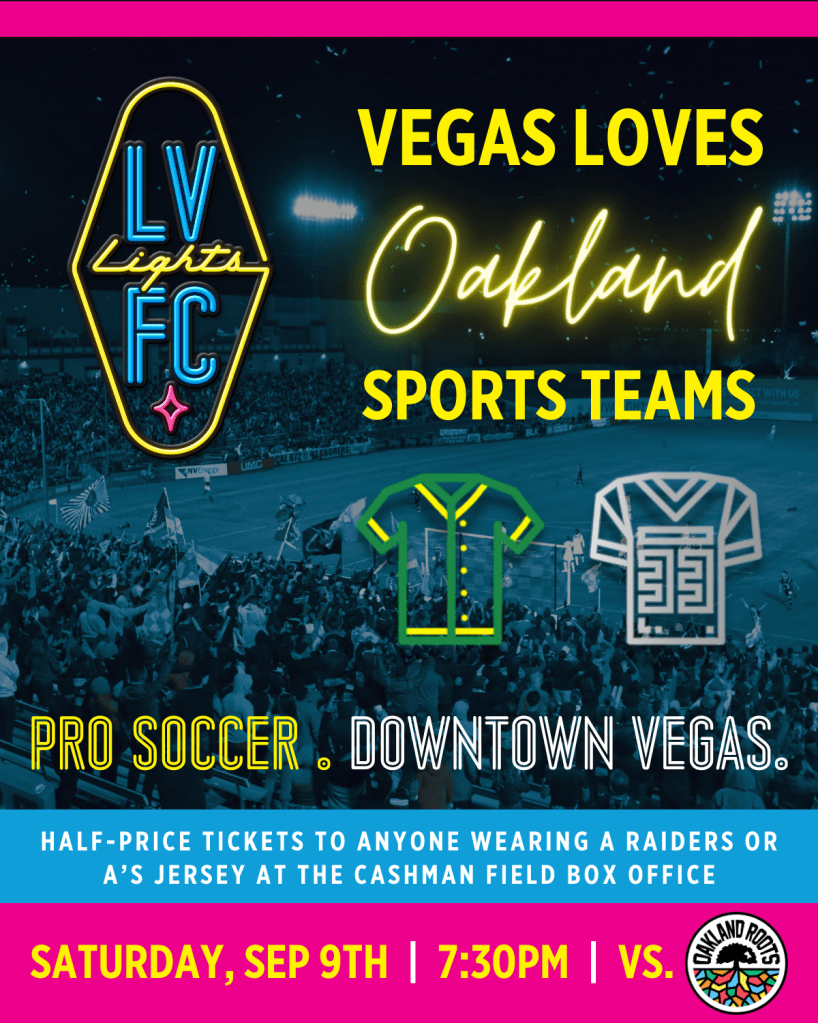 September 5, 2023 (Las Vegas, NV) — Las Vegas is falling in love with Oakland professional sports teams — and that love goes to a whole new level this Saturday night when Lights FC hosts Oakland Roots SC at Cashman Field (kick-off 7:30pm).
All fans wearing either a Raiders football jersey or Athletics baseball jersey will receive a half-price ticket to attend that night's match. Simply wear the jersey to the Cashman Field Box Office to receive your discounted ticket to that night's match.
"To state the obvious, there is a growing affinity from Las Vegas sports fans towards Oakland sports teams," said Lights FC Owner & C.E.O. Brett Lashbrook. "Las Vegas is the greatest city on earth. We are also known for our world-class hospitality. And so we are welcoming all Oakland sports fans to celebrate with Las Vegas sports fans on Saturday night!"
Individual tickets can be purchased here: LightsFC.com/Tickets
About Las Vegas Lights FC:Established in 2017, Lights FC brought professional soccer to the Entertainment Capital of the World. A member of the United Soccer League Championship, the second division professional league in the United States, Lights FC averages close to 6,000 fans per match playing in downtown Las Vegas at historic Cashman Field. Named by Sports Illustrated as the "Most Interesting Team in the World," the Club is known for its unique match day experience and was recently voted "Best Sports Value" in Las Vegas. Additional information can be found at LightsFC.com.