All Local Healthcare Workers to Receive Two Free Tickets at LightsFC.com/DonateLife Courtesy of Nevada Donor Network;
Multiple Festivities Planned for #DonateLife Match, including "Organ" Designed Jerseys Worn by Players & Special On-Field Halftime Recognition Ceremony.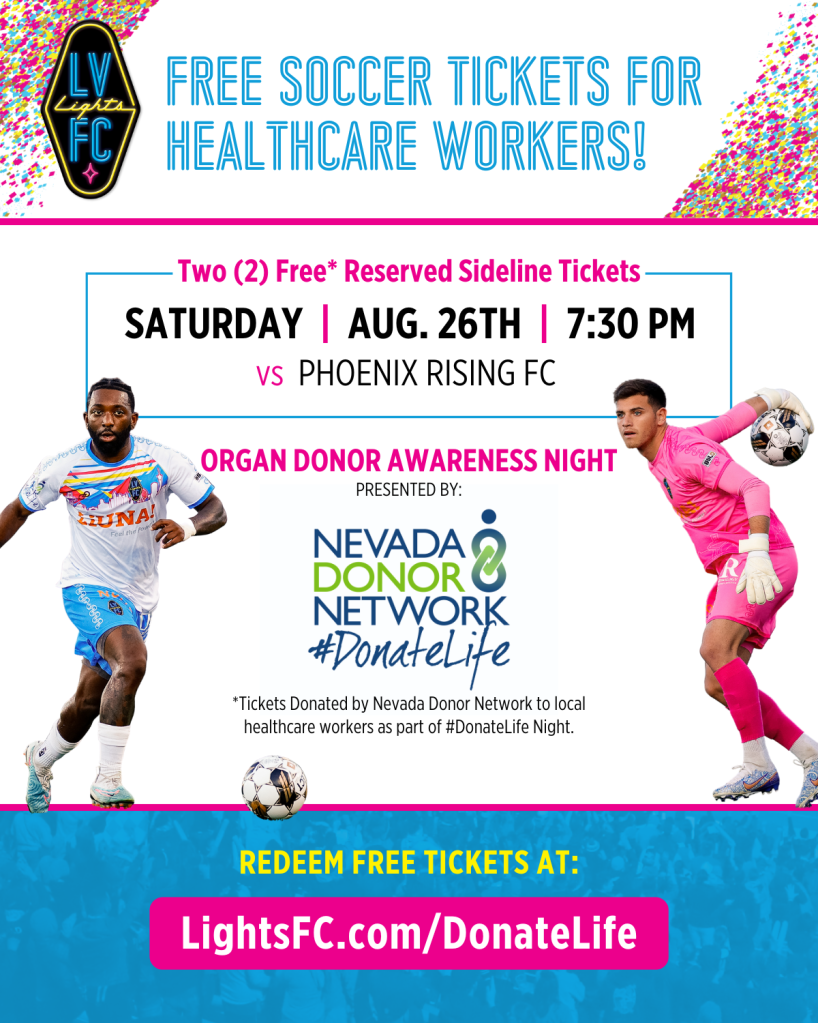 August 14, 2023 (Las Vegas, NV) — In partnership with Nevada Donor Network, Las Vegas Lights FC professional soccer is hosting its annual #DonateLife match on Saturday, August 26th (vs. Phoenix Rising FC; 7:30pm at Cashman Field).
As part of the match intended to raise awareness about the 640 Nevadans currently waiting for their second chance through organ donation — Lights FC & Nevada Donor Network have partnered to provide up to 1,000 free match tickets to all local healthcare workers (subject to availability). Tickets may be redeemed at LightsFC.com/DonateLife.
In addition, for the entire month of August, Lights FC players are wearing specially designed commemorative jerseys featuring various human organs that may be donated upon a person's death to provide life to others in need.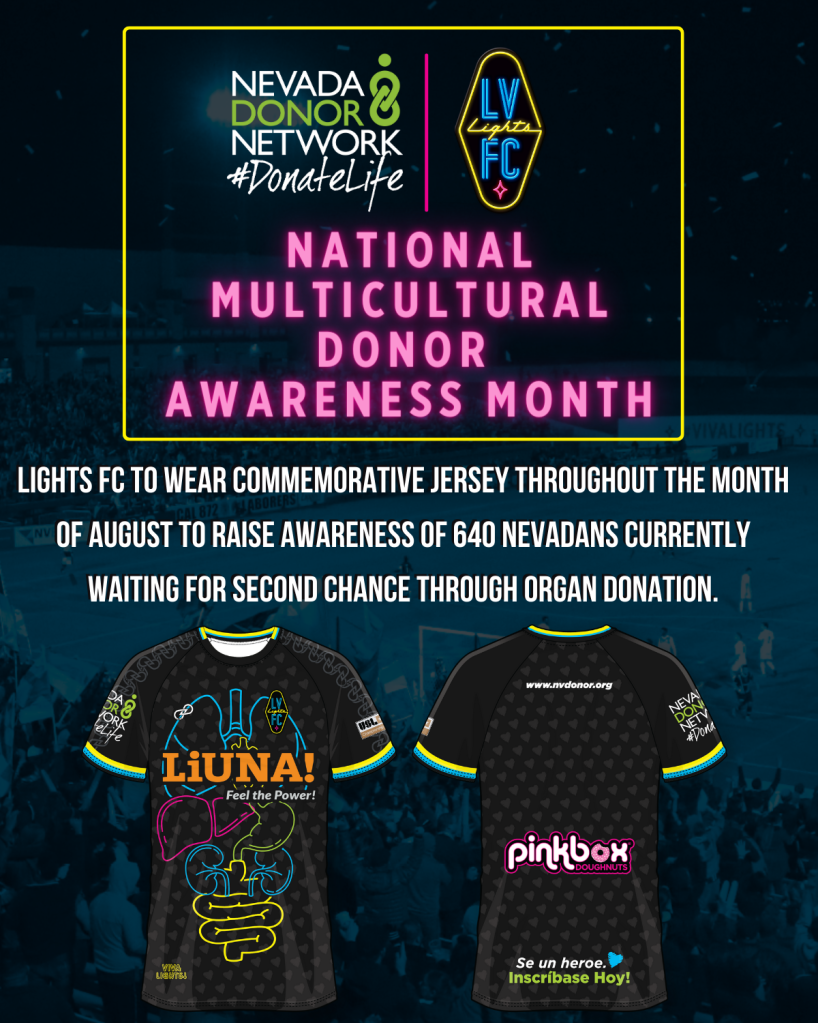 The need for local residents to register as organ donors is at critical levels, especially within the local Hispanic community where organ donors often require additional demographic matches to ensure the success of the transplant.
"This is an important cause — and one that we are proud to help raise local awareness," said Lights FC Owner & C.E.O. Brett Lashbrook. "We sincerely hope that this initiative starts important conversations within families and causes fans to learn more about the 640 fellow Nevadans that are currently waiting for a second chance through organ donation."
All fans are encouraged to go to NVDonor.org/Lights to register today to become a hero!
Individual tickets can be purchased here: LightsFC.com/Tickets
About Las Vegas Lights FC:
Established in 2017, Lights FC brought professional soccer to the Entertainment Capital of the World. A member of the United Soccer League Championship, the second division professional league in the United States, Lights FC averages close to 6,000 fans per match playing in downtown Las Vegas at historic Cashman Field. Named by Sports Illustrated as the "Most Interesting Team in the World," the Club is known for its unique match day experience and was recently voted "Best Sports Value" in Las Vegas. Additional information can be found at LightsFC.com.
CONTACT:
Media Inquiries should be directed to: Communications@LasVegasLightsFC.com