U-S-A!, U-S-A!:
250-PERSON U.S. NATURALIZATION CEREMONY TO BE HELD AT SATURDAY'S LIGHTS FC MATCH
Official Swearing-In Ceremony of New U.S. Citizens to Occur On-Field at Halftime;
Over 50 Countries Represented Covering Individuals Living in Southern Nevada.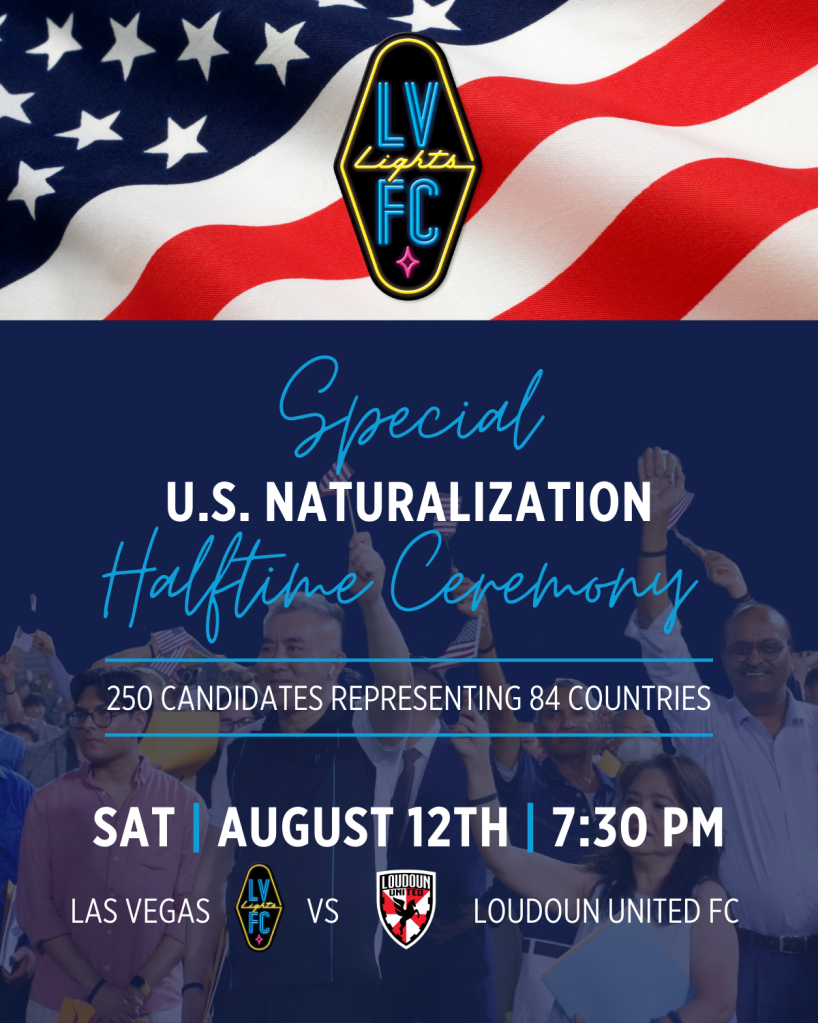 August 7, 2022 (Las Vegas, Nev.) — In conjunction with the United States Citizenship and Immigration Services (USCIS), the Las Vegas Lights FC professional soccer club will feature an incredibly unique on-field ceremony at halftime of its home match on Saturday (August 12th vs. Loudoun County FC; kick-off 7:30pm). 
Specifically, approximately 250 citizenship candidates will become new U.S. citizens at a special naturalization ceremony. U.S. Federal Judge Andrew Gordon will administer the Oath of Allegiance and other officials are scheduled to attend & participate in the swearing-in ceremony.
The citizenship candidates originate from 53 countries: Afghanistan, Albania, Australia, Belarus, Brazil, Bulgaria, Burma, Cambodia, Canada, Chile, China, Colombia, Costa Rica, Cuba, Dominican Republic, Egypt, El Salvador, Eritrea, Ethiopia, Federated States of Micronesia, Fiji, Germany, Guatemala, Honduras, Hungary, India, Indonesia, Iran, Israel, Italy, Jordan, Laos, Mexico, Montenegro, Morocco, Pakistan, Peru, Philippines, Poland, Russia, Serbia, South Korea, Spain, Sri Lanka, Taiwan, Tanzania, Thailand, Turkey, Ukraine, United Kingdom Uruguay, Vanuatu and Vietnam. The candidates live in Boulder City, Henderson, Las Vegas, North Las Vegas and Pahrump.
Media are invited to attend the event by contacting Communications@LasVegasLightsFC.com. Pre-event interview requests may also be submitted to this email address, too.
Individual tickets for the match are available for purchase at LightsFC.com/tickets. 
About Las Vegas Lights FC:
Established in 2017, Lights FC brought professional soccer to the Entertainment Capital of the World. A member of the United Soccer League Championship, the second division professional league in the United States, Lights FC averages close to 8,000 fans per match playing in downtown Las Vegas at historic Cashman Field. Named by Sports Illustrated as the "Most Interesting Team in the World," the Club is known for its unique match day experience and was recently voted "Best Sports Value" in Las Vegas. Additional information can be found at LightsFC.com.
CONTACT:
All Media Inquiries should be direct to:  Communications@LasVegasLightsFC.com