Broadcast Agreement Includes Live & Re-Air Match Broadcasts;
Lights FC's Home Open This Friday Night as Part of "Biggest Cinco de Mayo Party in Vegas"!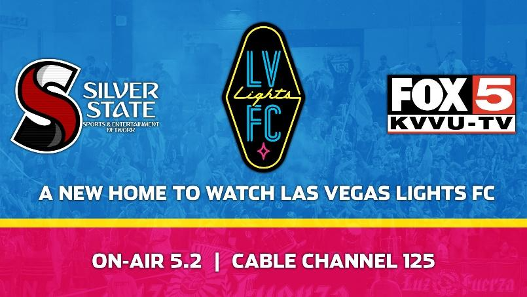 May 2, 2023 (Las Vegas, NV) — Las Vegas Lights FC and the Silver State Sports & Entertainment Network (SSSEN) announced today an expanded partnership featuring the live airing of select Lights FC match broadcasts throughout the season. SSSEN is the new broadcast channel recently launched by FOX5 KVVU which is available over the air in Southern Nevada on broadcast channel 5.2 as well as Cox channel 125 on cable.
"We are extremely excited about the opportunities that this new outlet provides, further showcasing Las Vegas' local professional soccer club on television," said Lights FC Owner & C.E.O. Brett Lashbrook. "Thank you to FOX5 KVVU Vice President and General Manager Michael Korr for his vision to make this a reality."
SSSEN is dedicated to local sports and action-packed content and this partnership follows its recent announcement to air live & re-air broadcasts across a multitude of UNLV Athletics' sports, WNBA's Las Vegas Aces and IFL's Vegas Knight Hawks.
"We are excited to grow our relationship with Las Vegas Lights FC by expanding coverage of local collegiate and professional teams" Korr said. "The partnership with the Las Vegas Lights FC is a foundational piece of the Silver State Sports and Entertainment Network which will continue to grow throughout the years."
Lights FC is in sixth season with its 2023 season Home Opener scheduled for this Friday night as part of its "Biggest Cinco de Mayo Party in Vegas" theme night featuring live luchador wrestlers performing throughout the evening. In addition, the Lights play a second home match this Sunday (May 7th) as part of its annual Family Day event with a special afternoon kick-off time.
About Las Vegas Lights FC:
Established in 2017, Lights FC brought professional soccer to the Entertainment Capital of the World. A member of the United Soccer League Championship, the second division professional league in the United States, Lights FC averages close to 7,000 fans per match playing in downtown Las Vegas at historic Cashman Field. Named by Sports Illustrated as the "Most Interesting Team in the World," the Club is known for its unique match day experience and was recently voted "Best Sports Value" in Las Vegas. Additional information can be found at LightsFC.com.
About FOX5 KVVU:
Serving the Las Vegas community with The Most Local News, FOX5 KVVU delivers 15.5 hours of LIVE local content per day with FOX5 News, and its local lifestyle show MORE Local. Las Vegas. Since 1998, FOX5 has been breaking the mold when it comes to local television, being internationally recognized for its franchises such as the FOX5 Surprise Squad, Super Build and our Take 5 to Care community outreach program. FOX5 is proud to be the Official Broadcast Home of the Las Vegas Raiders and home of The RebZone, the Official UNLV Coaches Show for the UNLV Football team and Runnin' Rebels. The Silver State Sports & Entertainment Network furthers FOX5's commitment to serve and inform Southern Nevada. To learn more about the station, visit www.FOX5Vegas.com.
CONTACT:
All Media Inquiries should be direct to: Communications@LasVegasLightsFC.com