LIGHTS FC TO HOST MAJOR LEAGUE SOCCER'S REAL SALT LAKE IN THIRD ROUND OF U.S. SOCCER'S OPEN CUP ON WED., APRIL 26TH
Annual "Knock-Out" Style Tournament Open to all Professional & Amateur Soccer Clubs Held Annually Since 1913;
First-Ever Appearance by MLS Club at Cashman Field in an Official Competition; and
All Lights FC Season Ticket Members Receive Free Ticket to Match — Season Tickets Start at Only $200!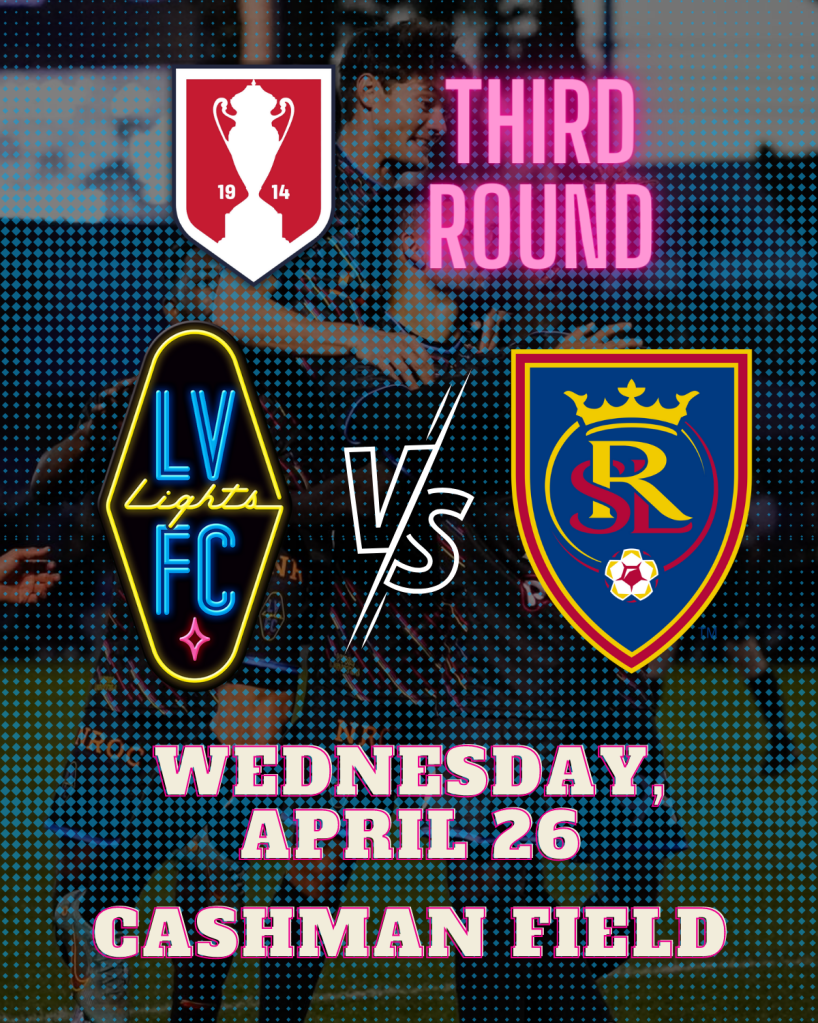 April 6, 2023 (Las Vegas, NV) — For the first time in Las Vegas Lights FC's franchise history they will be hosting a Major League Soccer club in an official competition when they welcome Real Salt Lake to Cashman Field for the Third Round of the 2023 Lamar Hunt U.S. Open Cup.
For background, the Lamar Hunt U.S. Open Cup is the longest running soccer tournament in the country dating back to 1913. It is a "knock-out" tournament open to all amateur & professional teams in the country. All Major League Soccer (Division 1) and United Soccer League Championship (Division 2) clubs enter in the later rounds. Qualifying for the tournament has been going on for more than six months. Lights FC won its initial match of the tournament last night by shutting out third-division professional side Los Angeles Force by a score of 4 to 0.
The Lights FC match versus Real Salt Lake will take place on Wednesday, April 26th at Cashman Field. Exact kick-off time & broadcast information is expected to be finalized by the U.S. Soccer Federation shortly.
In addition, ticket information and related details will also be announced shortly by the Club.
Lights FC is currently undefeated on the season with three draws on the road, most recently last weekend in Indianapolis. Currently on an extended road trip for regular season matches to start the season while the XFL utilizes Cashman Field, Lights FC's regular season home opener weekend will feature two home matches: (i) Friday, May 5th for "The Biggest Cinco de Mayo Party in the State" and (ii) Sunday, May 7th for Family Day featuring a special afternoon kick-off time. Former Mexican National Team Player & Ex-Major League Soccer Designated Player Erick "Cubo" Torres continues to lead Lights FC's offensive attack.
About Las Vegas Lights FC:
Established in 2017, Lights FC brought professional soccer to the Entertainment Capital of the World. A member of the United Soccer League Championship, the second division professional league in the United States, Lights FC averages close to 7,000 fans per match playing in downtown Las Vegas at historic Cashman Field. Named by Sports Illustrated as the "Most Interesting Team in the World," the Club is known for its unique match day experience and was recently voted "Best Sports Value" in Las Vegas. Additional information can be found at LightsFC.com.
CONTACT:
All Media Inquiries should be direct to: Communications@LasVegasLightsFC.com