30-Year Old Previously Played for Mexican National Team, Chivas Guadalajara & Major League Soccer Where He Was Classified As A "Designated Player";
Tyler Bagley & Marcelo Lage also Signed; and
Lights FC's 2023 Season Opener This Weekend in Texas
March 7, 2023 (Las Vegas, NV) — Las Vegas Lights FC announced today the addition of former Mexican National Team & Major League Soccer All-Star player Erick "Cubo" Torres.
The 30-year old joins Lights FC after previously playing for the Mexican National Team, as well as in Liga MX and Major League Soccer. In Mexico, he appeared in close to 100 matches including for famed Mexican Club Deportivo Guadalajara (commonly known as "Chivas"). In Major League Soccer, he played nearly 75 matches including for Houston Dynamo where he was classified as a "Designated Player" (the rule created to allow star players to sign for MLS players outside of its salary cap).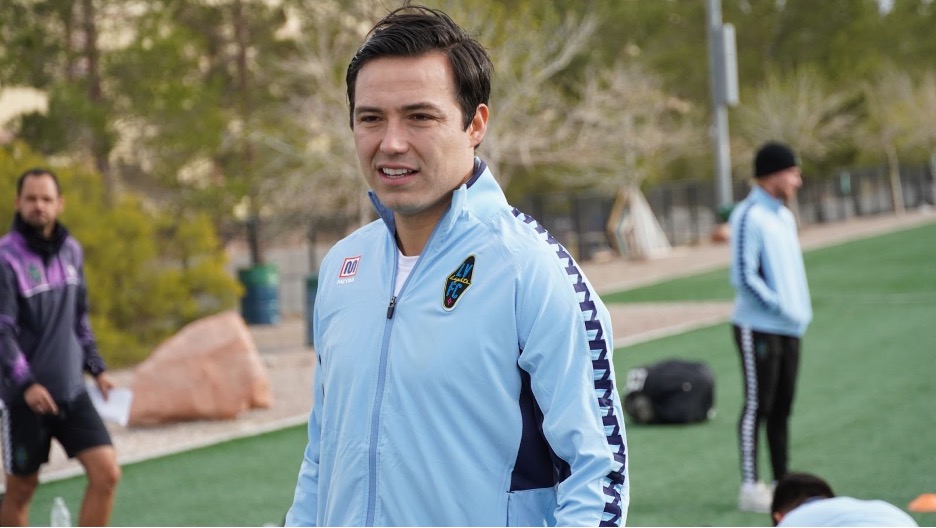 In addition to Torres, Lights FC also announced the signing of the following two players…:
Tyler Bagley: A 23-year California native who played collegiately at Cornell joins Lights FC after playing for Inter Miami II in Major League Soccer Next Pro last season.
Marcelo Lage: A 22-year defender who is a recent graduate of Hofstra University signing his first professional contract.
Season Opener – This Weekend:
Lights FC's 2023 regular season kicks off this Sunday at Rio Grande Valley FC (5pm PT – live on ESPN+). Lights FC's pre-season schedule wrapped up last weekend with a 2-1 victory over Los Angeles Galaxy II in California.
Home Opener — Cinco de Mayo:
Lights FC will start the season with an extended road trip to accommodate the XFL at Cashman Field in March/April. The 2023 Home Opener will take place on Friday, May 5th as part of a "Cinco de Mayo" celebration.
2023 "FLEX" Season Tickets — Start at Only $200+:
Recently voted the Best Value in Vegas Sports, season tickets start at only $200 and are uniquely structured as "FLEX" tickets. This means you can attend every match in your season-long assigned seat (like a traditional season ticket) or you can "FLEX" it so you can mix-and-match tickets to bring friends & family to specific games (e.g., 1 ticket for 20 games, 2 tickets for 10 games, 2 games with 5 tickets plus 5 games with 2 tickets, etc., etc.). Learn more at LightsFC.com/Tickets.
About Las Vegas Lights FC:
Established in 2017, Lights FC brought professional soccer to the Entertainment Capital of the World. A member of the United Soccer League Championship, the second division professional league in the United States, Lights FC averages close to 7,000 fans per match playing in downtown Las Vegas at historic Cashman Field. Named by Sports Illustrated as the "Most Interesting Team in the World," the Club is known for its unique match day experience and was recently voted "Best Sports Value" in Las Vegas. Additional information can be found at LightsFC.com.
CONTACT:
All Media Inquiries should be direct to: Communications@LasVegasLightsFC.com