WORLD CUP SOCCER WATCH PARTIES:
Las Vegas Lights FC Pro Soccer, El Dorado Cantina & Hisense TV's Have Partnered to Host Multiple World Cup Soccer Watch Parties;
First Watch Party Scheduled for USA vs. England Match on "Black Friday" at El Dorado Cantina in Tivoli Village;
Prize Giveaways Include 65" Hisense Television & Lights FC Memorabilia, Plus Multiple Food & Drink Specials!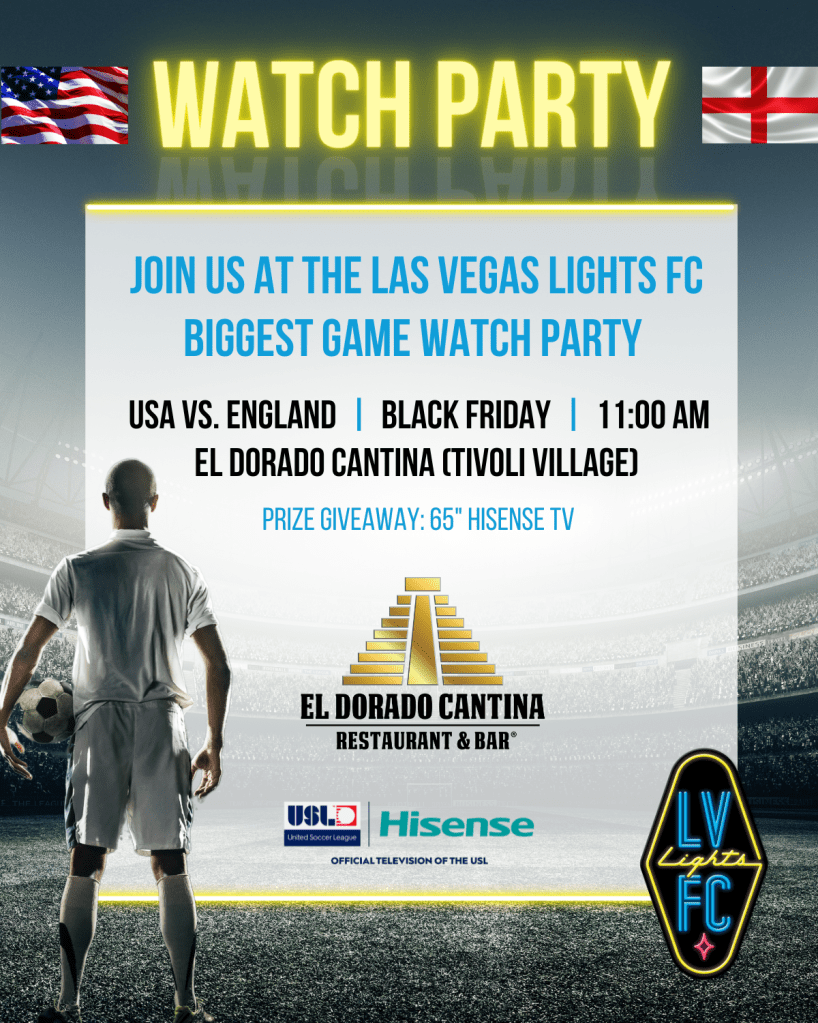 November 16, 2022 (Las Vegas, NV) — The biggest sporting event in the world — the FIFA Men's World Cup — starts this weekend and will last for four weeks. To celebrate this tournament which only occurs every four years, the Las Vegas Lights FC, El Dorado Cantina & Hisense TV's have partnered to stage multiple watch parties for local soccer fans.
The first watch party will feature the U.S. National Team versus England match occurring next week on "Black Friday" (Friday, November 25th at 11a PT). Additional watch parties will be announced as the tournament progresses and the "knock-out" portion of the match schedule is finalized.
Next Friday's event will also feature the prize giveaway of a 65" Hisense Television, as well as numerous food & drink specials.
For more information and to check for updated Watch Party schedule events, please regularly visit LightsFC.com/WatchParty.
El Dorado Cantina's Tivoli Village is located at 430 South Rampart Blvd., Suite 110, Las Vegas, NV 89145.
About Las Vegas Lights FC:
Established in 2017, Lights FC brought professional soccer to the Entertainment Capital of the World. A member of the United Soccer League Championship, the second division professional league in the United States, Lights FC averages close to 8,000 fans per match playing in downtown Las Vegas at historic Cashman Field. Named by Sports Illustrated as the "Most Interesting Team in the World," the Club is known for its unique match day experience and was recently voted "Best Sports Value" in Las Vegas. Additional information can be found at LightsFC.com.
CONTACT:All Media Inquiries should be directed to: Communications@LasVegasLightsFC.com