"HUMP DAY CAMEL DAY" TOMORROW AT CASHMAN FIELD!
Camels to Join Players On-Field for Pre-game Ceremonies Tomorrow to Celebrate "Hump Day" At Cashman Field;
Fan Permitted Field Level to Take Selfies With & Feed Carrots to Camels During Pre-Match Warm-Ups.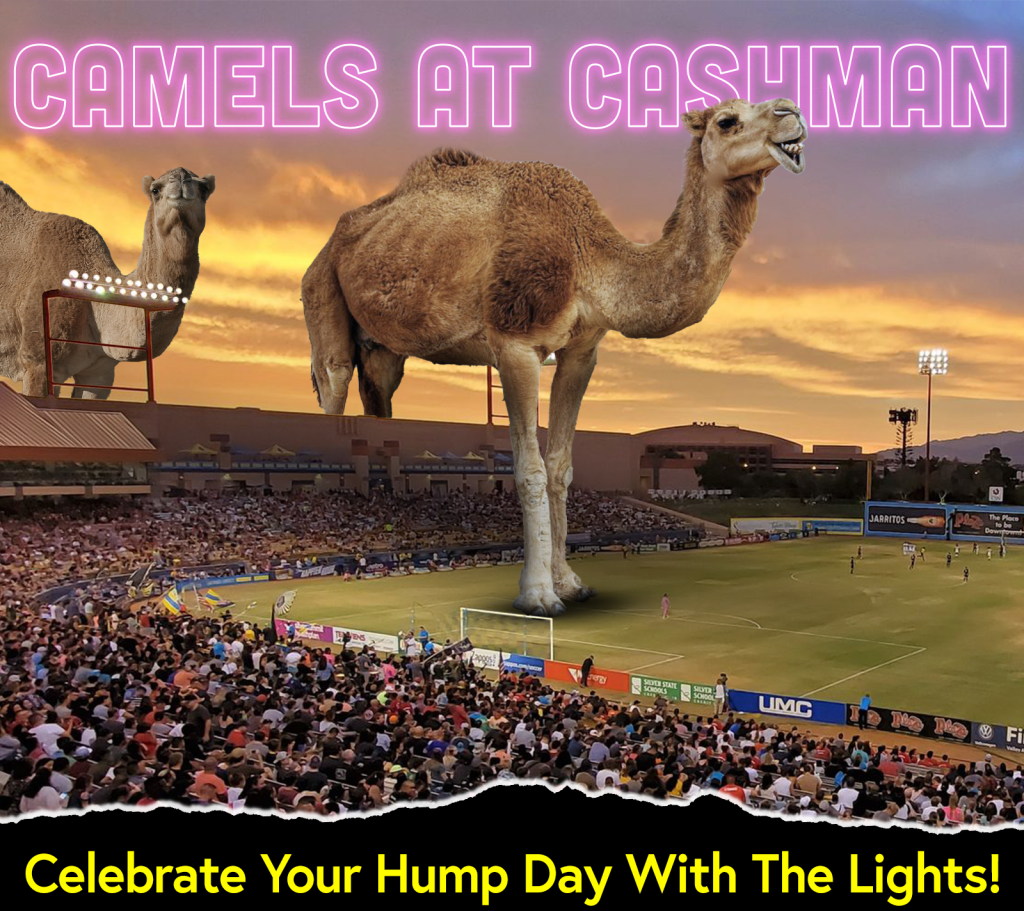 July 26, 2022 (Las Vegas, NV) — The "World's Most Interesting Team" according to Sports Illustrated has done it again with its plans for the single-greatest Wednesday night sporting event promotion in history! Come join Lights FC for its "Hump Day Camel Day" celebration when an adult camel will attend tomorrow night's match at Cashman Field (July 27th) against San Antonio FC (kick-off 7:30pm).
Fans will be encouraged to interact with the camels at field level during pre-match player warm-ups (open to all fans) where they can take selfies and feed carrots to the camels.
In addition, at the start of the match, the camel will join the players on-field for official pre-game ceremonies, including (but not limited to) player introductions and participating in the Starting 11 photo.
"'Hump Day Camel Day' is the perfect way to celebrate a Wednesday night in the middle of the desert in the dead of summer," said Lights FC Owner & C.E.O. Brett Lashbrook. "Seriously, can anyone say they aren't smiling when they hear about this? It's gonna be a fun time for all ages and helps keep Lights FC being the "Most Interesting Team" in sports!"
The "Terrible's $10 Ticket" promotion presented by Terrible Herbst remains in effect all summer where tickets are priced at only $10 for adults & all kids tickets are only $5 at LightsFC.com/Tickets.
About Las Vegas Lights FC:
Established in 2017, Lights FC brought professional soccer to the Entertainment Capital of the World. A member of the United Soccer League Championship, the second division professional league in the United States, Lights FC averages close to 8,000 fans per match playing in downtown Las Vegas at historic Cashman Field. Named by Sports Illustrated as the "Most Interesting Team in the World," the Club is known for its unique match day experience and was recently voted "Best Sports Value" in Las Vegas. Additional information can be found at LightsFC.com.
CONTACT: All Media Inquiries should be directed to:  Communications@LasVegasLightsFC.com