24-HOUR FLASH SALE ALERT:
CELEBRATE "702 DAY" THIS SATURDAY, JULY 2ND WITH SPECIAL $7.02 TICKETS
Celebrate Your Favorite Area Code this Holiday Weekend with Lights FC Pro Soccer, Halftime Hot Dog Eating Contest & Post-Match Fireworks Show!
$7.02 Tickets Available Til Midnight at LightsFC.com/702.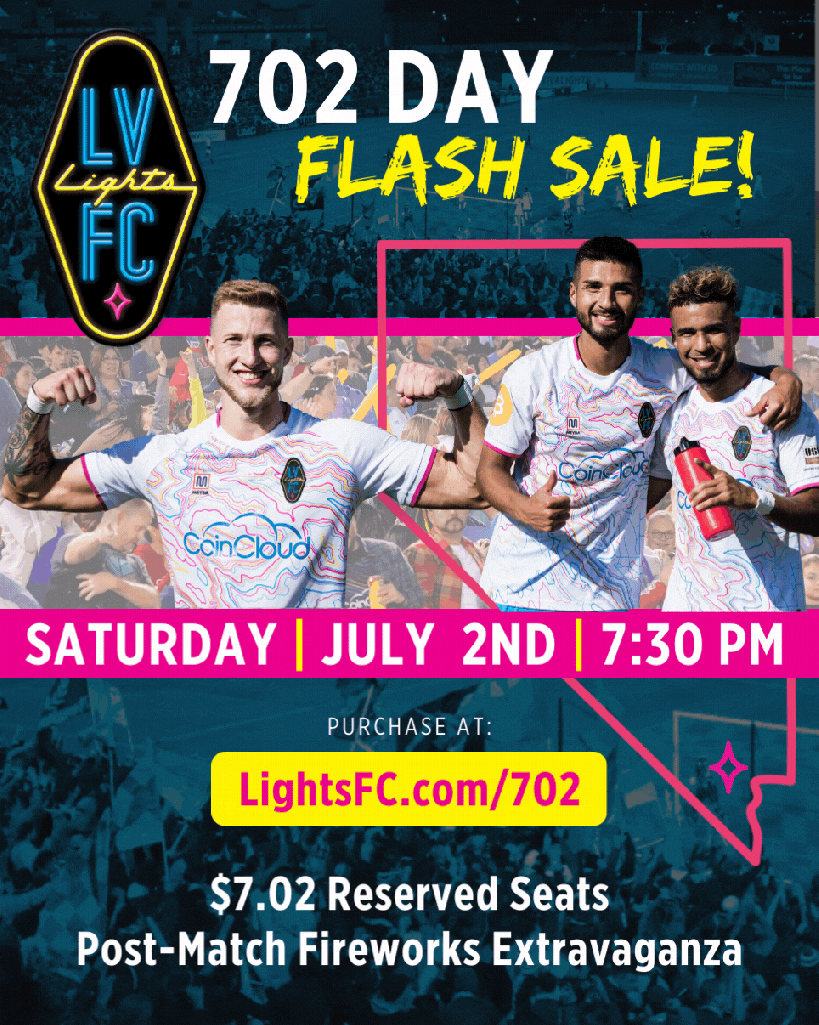 June 30, 2022 (Las Vegas, NV) — Celebrate "702 Day" this Saturday (i.e., July 2 = 7/02 = 702 Day!) with a special $7.02 ticket offer from Las Vegas Lights FC pro soccer. The 24-hour flash sale ends at 11:59pm tonight (Thursday, June 29th).
Fans may redeem the offer at LightsFC.com/702.
Saturday's match at Cashman Field in downtown Las Vegas kicks-off at 7:30pm against Detroit City FC. Lights FC is currently on a franchise record three-match winning streak and looks to make it four-in-a-row. The match will also feature multiple Independence Day themed activities, including….:
Great American Hot Dog Eating Contest: Ten lucky fans will be selected to participate in this halftime event with the winner receiving a free year's supply of Jarritos! Interested fans are encouraged to visit LightsFC.com/HotDogContest.
Red Apple Fireworks Post-Match Extravaganza Show: Featuring a spectacular seven (!!) minutes fireworks show immediately following the match, fans will be able to celebrate the holiday weekend in style! Plus, immediately following the show, all fans will be invited to come down onto the field to run around, shoot goals and keep the party going!
Simply put, Lights FC has been voted the best value in Vegas sports — and the value this Saturday just got better!
"We love all things 702! Come celebrate with us downtown when we throw a party for all ages with soccer, fireworks and hot dogs!," said Lights FC Owner & C.E.O. Brett Lashbrook. "We pride ourselves on providing the absolute best 'dollar-for-dollar' value of any entertainment option locally. If you haven't been to a Lights FC game yet then you're missing out on lots of fun, smiles and laughs — we guarantee it!"
Individual tickets for Saturday's match are available for purchase at LightsFC.com/tickets.
About Las Vegas Lights FC:
Established in 2017, Lights FC brought professional soccer to the Entertainment Capital of the World. A member of the United Soccer League Championship, the second division professional league in the United States, Lights FC averages close to 8,000 fans per match playing in downtown Las Vegas at historic Cashman Field. Named by Sports Illustrated as the "Most Interesting Team in the World," the Club is known for its unique match day experience and was recently voted "Best Sports Value" in Las Vegas. Additional information can be found at LightsFC.com.
CONTACT:All Media Inquiries should be direct to: Communications@LasVegasLightsFC.com