Subaru of Las Vegas to Provide Local Kids with Complimentary Tickets to Participate in "World Record" Attempt at Halftime of Lights FC Match — Redeem at LightsFC.com/YouthSportsNight;
All Fans Invited On-Field at Halftime to Participate;
Friday, June 24th Match at Cashman Field — "Terribles $10 Tickets" Available All Summer Long.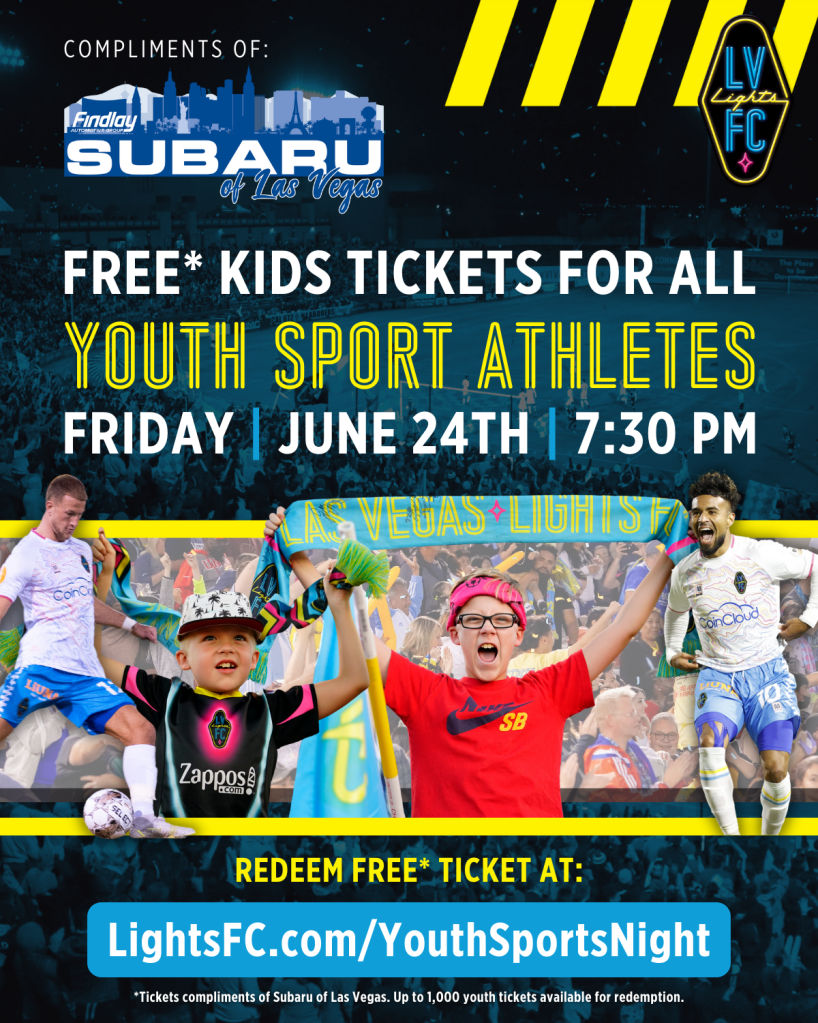 June 13, 2022 (Las Vegas, NV) — Need something fun for your kids to do on these hot summer nights? Las Vegas Lights FC & Subaru of Las Vegas has just the solution on Friday, June 24th — free kids tickets & water balloons!
In an effort to set the unofficial "world record" for largest water balloon fight at a soccer match, Lights FC is inviting all fans onto the field at halftime to participate in the fun during its next home match on Friday, June 24th versus Phoenix Rising SC (Kick-Off 7:30pm).
And Subaru of Las Vegas is providing complimentary match tickets to local area youth sport athletes, subject to availability. Fans may redeem complimentary youth sports tickets at LightsFC.com/YouthSportsNight.
It's super simple to participate — just come down to the field at halftime and the water balloons will be provided free of charge! All children under the age of 10 must be accompanied by a parent/guardian.
Lights FC will provide tens of thousands of pre-filled water balloons available for fans entering the field at halftime. The "fight" will last a minimum of two minutes in an attempt to qualify for the potential "world record" which was previously set by Lights FC in 2019 & 2021.
"Scoring goals, setting world records & creating unique fun experiences for our fans. Just another day for Lights FC!," said Lights FC Owner & C.E.O. Brett Lashbrook.
Match tickets start as low as $10 for General Admission Seats presented by Terrible Herbst. Fans can purchase at LightsFC.com/Tickets.
About Las Vegas Lights FC:
Established in 2017, Lights FC brought professional soccer to the Entertainment Capital of the World. A member of the United Soccer League Championship, the second division professional league in the United States, Lights FC averages close to 8,000 fans per match playing in downtown Las Vegas at historic Cashman Field. Named by Sports Illustrated as the "Most Interesting Team in the World," the Club is known for its unique match day experience and was recently voted "Best Sports Value" in Las Vegas. Additional information can be found at LightsFC.com.
CONTACT:All Media Inquiries should be direct to: Communications@LasVegasLightsFC.com