ALL FANS TO ENTER STADIUM VIA "COLLEEN THE COLON" AT EACH HOME MATCH IN MARCH IN CELEBRATION OF NATIONAL COLORECTAL CANCER AWARENESS MONTH
Presented by Comprehensive Cancer Centers of Nevada, this One-of-a-Kind Inflatable to Help Raise Awareness about Colorectal Cancer Prevention.
Lights FC's to Play Home Matches on March 19th & March 26th.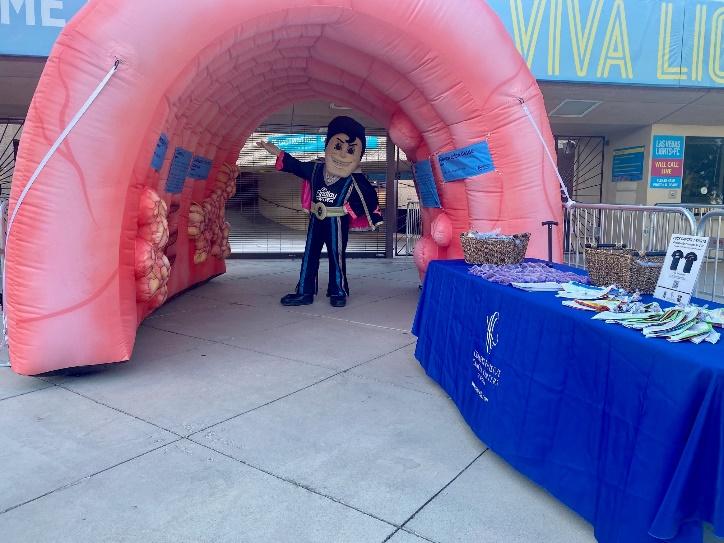 March 15, 2022 (Las Vegas, NV) — In partnership with Comprehensive Cancer Centers of Nevada, Las Vegas Lights FC is proud to announce the appearance of "Colleen the Colon" at each home match this month, starting with this Saturday's home opener (Sat., March 19th at Cashman Field – 7pm Kick-Off).
"Colleen the Colon" is an oversized inflatable that fans will be asked to walk through upon entry to the stadium. Measuring over twelve feet wide and twelve feet tall, this inflatable allows fans to simulate walking through a human colon. The experience is meant to teach individuals about normal colon tissue, Crohn's disease, polyps, malignant polyps, colon cancer and advanced colon cancer.
March is National Colorectal Cancer Awareness Month. Aimed at raising education within the public regarding diseases of the colon and rectum and to promote awareness of the importance of colorectal cancer screening, prevention and treatment. These efforts also provide an important platform into the profession to encourage others to consider careers in the field of colon and rectal surgery.
"Comprehensive Cancer Centers is proud to be a community partner of the Las Vegas Lights with a goal to help bring awareness to early detection and prevention of colorectal cancers," said Jon Bilstein, CEO of Comprehensive Cancer Centers of Nevada. "With our many partnerships, we seek to find new and interesting ways to educate the community about annual screenings and the benefits of finding cancer at its earliest stage. We hope Lights fans find this memorable and educational."
"From the team that has regularly brought you match day fun with llamas, water balloon world records and sideline mattress seats, Lights FC is ready to use our platform to help raise awareness about colorectal cancers," said Brett Lashbrook, Lights FC's Owner & C.E.O.
Tickets start at $15 and are on-sale now at LightsFC.com/Tickets. For group ticket information, please contact Tickets@LasVegasLightsFC.com.
About Comprehensive Cancer Centers:
Comprehensive Cancer Centers is an award-winning multi-specialty practice comprising medical oncology, hematology, radiation oncology, breast surgery, pulmonary services, cancer genetic counseling and clinical research, with treatment centers and offices throughout Southern Nevada. For more than 40 years, the practice has provided oncology services to patients in and out of state with a specialized physician and nursing staff. Comprehensive, an affiliate of The US Oncology Network, offers state-of-the-art technologies, latest advancements in cancer treatment and groundbreaking clinical research trials. The practice participates in more than 170 Phase I, Phase II and Phase III clinical research studies each year and has played a role in developing more than 100 FDA-approved cancer therapies. For more information, visit the company's website at www.cccnevada.com, and follow the practice on Facebook, Twitter and Instagram.
About Las Vegas Lights FC:
Established in 2017, Lights FC brought professional soccer to the Entertainment Capital of the World. A member of the United Soccer League Championship, the second division professional league in the United States, Lights FC averages close to 8,000 fans per match playing in downtown Las Vegas at historic Cashman Field. Named by Sports Illustrated as the "Most Interesting Team in the World," the Club is known for its unique match day experience and was recently voted "Best Sports Value" in Las Vegas. Additional information can be found at LightsFC.com.
CONTACT:
All Media Inquiries should be directed to: Communications@LasVegasLightsFC.com