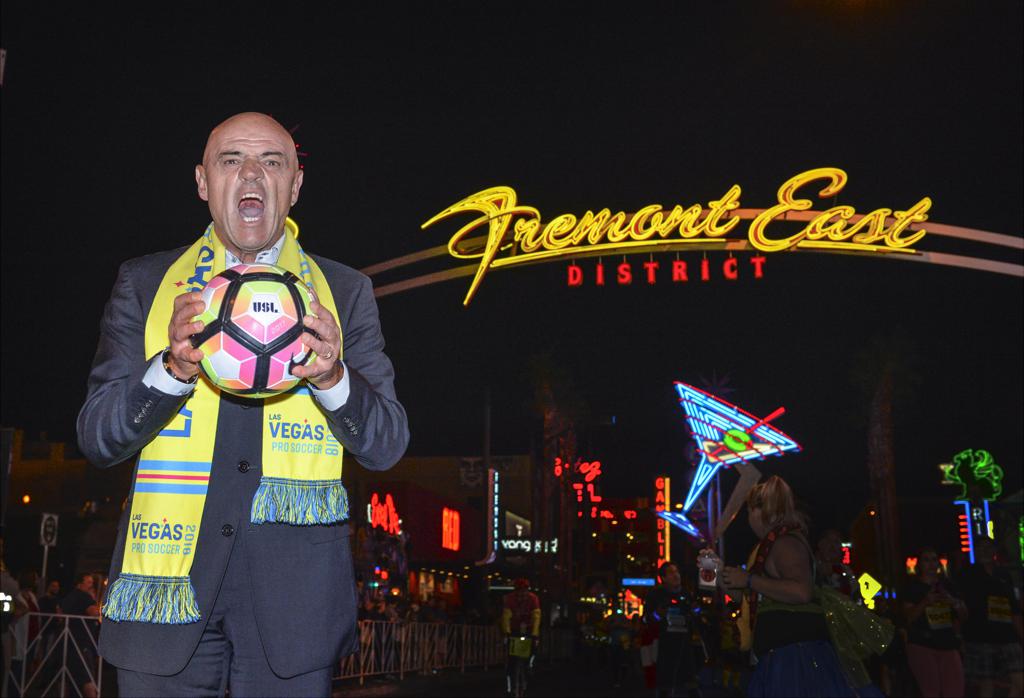 ***** Leer en español aquí *****
He's bold. He's unapologetic. And now, the man commonly referred to as 'Chelís' will call Las Vegas and the Cashman Field sidelines his home.
Las Vegas Lights Football Club (FC) on Monday announced José Luis Sánchez Solá as the club's first head coach entering its inaugural season in the United Soccer League (USL). He will make history as the first head coach to hold that position with clubs in the 1st and 2nd divisions of professional soccer in both the United States and Mexico.
Chelís will be formally introduced during a press conference on Tuesday, Nov. 14, at 12 p.m. PT at Inspire Theatre in Downtown Las Vegas (107 Las Vegas Blvd. S., Las Vegas, NV, 89101). All media is invited to join, and the press conference will also be open to the public.
Chelís is currently an analyst on ESPN Deportes' hit daily soccer show Fútbol Picante, where he has continued to build his individual popularity since 2014.
"I am extremely excited to build a spectacular team for a spectacular city," said Chelís. "I am grateful to Las Vegas Lights FC for the opportunity to excite this city with the most beautiful sport in the world."
"We want everything about this club to represent Las Vegas, while also pushing the envelope and breaking the mold of professional soccer in America. With his style and his overall approach, Chelís being our head coach is a natural and perfect fit," said Brett Lashbrook, owner and CEO of Lights FC. "We want to play an attacking, flashy, exciting brand of soccer, and Chelís shares that same vision. He's proven it – with success – at previous coaching stops, and does it with a sense of style and flair that fits with our vibrant, electric city and community."
Chelís' career as a head coach began by taking over the reins with Puebla (2006-10, 2014) of the prestigious Liga MX. A coach who immediately earned the support and loyalty of his players, Chelís helped end more than a decade of dormancy for the club, including multiple deep postseason runs. His experience in Mexico also included head coaching stints with Estudiantes Tecos (2010-11), Tamaulipas (2012), Veracruz (2014) and Venados F.C. (2016-17).
His first taste of coaching in the U.S. was as the head coach of Major League Soccer (MLS) club Chivas USA in 2013.
The first official member of Chelís's staff will be a familiar one – his son, Isidro Sánchez. The 30-year-old Sánchez played for Puebla's Premier team from 2007-12, and was also a member of Canada's U-20 and U-23 national teams. He began his coaching career on his father's staff at Chivas USA in 2013, and has since held assistant coaching and scouting positions for multiple clubs in Mexico.
Chelís will begin working with Lights FC immediately, while also completing his contractual obligations with Fútbol Picante through the end of 2017.
Lights FC, the 33rd team in the USL, will begin preseason play at Cashman Field in February 2018, with a home schedule of 20-plus matches running through at least October 2018. While sharing Cashman Field during the inaugural season with the Las Vegas 51s, the stadium and playing surface will be converted to a fully natural grass playing turf to provide and intimate, authentic soccer environment for each home match.
Lights FC 2018 season tickets start at just $200, and each season ticket purchased includes a free Lights FC jersey. Secure your spot in line today by making a $20 season ticket deposit, and view all season ticket pricing by visiting www.lightsfc.com/tickets.