Two-Day Tryout to be Held January 28-29 is Open to All Ages — Register at LightsFC.com/Tryout;
For First Time In History, Lights FC Will Potentially Offer both Professional & Academy Contracts at Open Tryout to Play for First-Team;
Lights FC Remains Only Professional Team in History to Guarantee a Roster Spot Each Season to a Player that was Born In, Raised In and/or Attended School in Las Vegas With 9 Such Players Selected in Club's First 5 Seasons.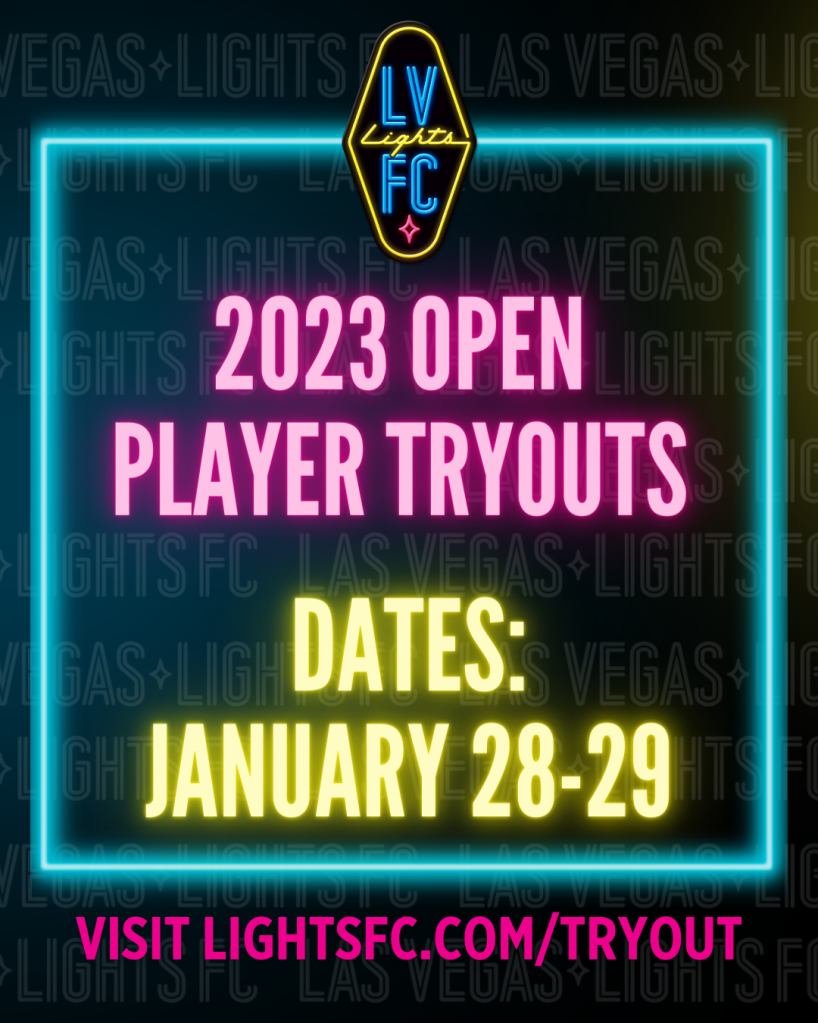 January 10, 2023 (Las Vegas, NV) — Separating itself again from other local professional sports teams, Las Vegas Lights FC announced the return of its Open Tryouts for this January 28-29. Open to players of all ages and backgrounds, all interested aspiring professional players are encouraged to register at LightsFC.com/Tryout.
This event continues the precedent that Las Vegas Lights FC is the only professional sports team in history to guarantee a local roster spot every season to at least one player who was born in, raised in or attended school in Las Vegas. To date, nine (9) local players in the first 5 seasons of Lights FC have been on Lights FC's active roster. The Lights FC's Home Grown Player program is proudly presented by Nevada State College.
In addition, for the first time in Club history, the Open Tryouts will feature the opportunity for players to potentially receive a professional contract or a United Soccer League Academy contract which is aimed for those players 21 years or younger who have not previously played collegiately or professionally. Players signed to Academy Contracts are still eligible to play college soccer in the future.
Lights FC opens its pre-season training camp on February 1st with its season opener on March 12th at Rio Grande Valley Toros FC.  Its home opener will take place on Cinco de Mayo — Friday, May 5th.  Season Tickets (uniquely structured as a $200 "Flex Pass") are available for purchase at LightsFC.com/Tickets.
About Las Vegas Lights FC:
Established in 2017, Lights FC brought professional soccer to the Entertainment Capital of the World. A member of the United Soccer League Championship, the second division professional league in the United States, Lights FC averages close to 8,000 fans per match playing in downtown Las Vegas at historic Cashman Field. Named by Sports Illustrated as the "Most Interesting Team in the World," the Club is known for its unique match day experience and was recently voted "Best Sports Value" in Las Vegas. Additional information can be found at LightsFC.com.
CONTACT:All Media Inquiries should be direct to: Communications@LasVegasLightsFC.com